Overcoming Obstructive Thinking and Behavior Patterns
Are you tired of making up excuses in order to avoid fearful and anxious situations like public speaking or driving? Do you want more self-confidence in relationships or at work? Would you like to break free of old habits and/or thinking patterns that no longer serve you? Using guided imagery and hypnotherapy, Transformative Living can help you to change habitual thinking and behavioral patterns that you are ready to overcome such as:
Anxious rumination about the past or future
Limiting thoughts and/or beliefs that hold you back from living the life you want
Fears that cause you to avoid certain places, things, situations, or relationships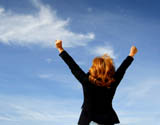 Over time, the tools and techniques that Transformative Living utilizes and encourages you to practice will help you to see your patterns from a different perspective enabling you to redirect your energies and focus on changing your responses to applicable situations. Thinking and behavior patterns around issues such as fears and self-doubt no longer have to rule your life. You can make conscious active decisions to adapt to your surroundings, evolve into the person you wish to be, and thrive in the moment.
"I was in a car accident a couple of months prior to seeking treatment. I had extreme fear and panic when driving, also having panic attacks and nightmares because of the accident. It was a great experience working with Dr. McDonald...I learned how to change my natural reaction to what I was feeling and how to overcome my fear. The hypnosis treatment worked immediately for me - after the appointment I drove home feeling better than ever - without fear."
- Barina M.
> more