Client Testimonials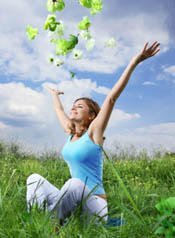 Overcoming Obstructive Thinking or Behavior Patterns
"I was in a car accident a couple of months prior to seeking treatment. I had extreme fear and panic when driving, also having panic attacks and nightmares because of the accident. It was a great experience working with Dr. McDonald. I really liked her approach to my issue and how she gave me valuable information that I can use for a lifetime. I felt that she listened to my every issue and offered great advice for my situation. The way Dr. McDonald explained the theory of flight or fight and how the brain reacts to trauma. I learned how to change my natural reaction to what I was feeling and how to overcome my fear. The hypnosis treatment worked immediately for me - after the appointment I drove home feeling better than ever - without fear. Even if you are unsure of hypnosis and never tried it before, it would be a great way to overcome and change your thinking and fears. It creates an inner calm that may not happen in other therapy practices"
- Barina M., San Jose, CA


"I was referred to Dr. McDonald for issues related to phobias and anxiety. Since I have been working with Dr. Cynthia, I have made significant strides. My phobias made me almost housebound. In recent months, I have traveled to San Diego and flew to Dallas for a family reunion and wedding to give just a couple of examples of how Dr. Cynthia has helped me to take control and reclaim my life. Dr. McDonald is a true healer with talents that exceed hypnotherapy. From our first meeting I found her to be extremely caring and intuitive. Dr. Cynthia truly listens and provides thoughtful questions that get to the heart of the issue. She develops a customized approach and works with me patiently. Dr. Cynthia is an extremely talented professional and her caring extends beyond the time you spend in her office. She gently, powerfully, and efficiently helps you move through issues. She is a true healer. I would recommend Dr. McDonald to anyone."
- CMEGH, N. CA


Healing Imagery Groups
"I started attending bi-monthly guided imagery groups facilitated by Dr. McDonald at our local hospital three months ago. Her calm and soothing voice, along with her visual techniques showed me how to reach a deep, relaxed state. With each session I attend I continue to become even more relaxed. Her sessions leave me feeling balanced, centered, and refreshed. I think Dr. McDonald's skills in hypnotherapy and guided imagery could be beneficial to anyone like me or who may be seeking help in pain reduction, stress, handling life changes, or just wanting to change a habit. I would highly recommend Dr. McDonald to anyone interested in making a positive change in their life."
- Cathy M., San Jose, CA


"Just wanted to share with you how much I am enjoying the guided imagery class. I would strongly encourage my fellow employees to attend; it's very relaxing, stress reducing and just makes you feel well within yourself. Thanks for offering the class at our hospital."
- Diana, C., RN, San Jose, CA


Preparation for Surgery
"In the process of preparing for major surgery, I wanted to do everything I could to support myself pre-mid-post surgery with anxiety, rest and pain management. Having an understanding of how powerful of a tool my mind is, I knew to reach out and look for someone doing medical hypnosis. After finding Dr. McDonald's website, I made contact with her and set up the 1st appt. After a bit of discussion, I knew that I was in the right place.
We discussed what outcomes I was hoping for in each stage of my process. She asked lots of questions and then asked if I was ready to begin. At the end of the 1st session, I was not only relaxed with answering all of her questions, but I was able to get completely relaxed in the 1st protocol to help relieve the anxiety of all the pre-surgical tests. I left her office that day knowing this was exactly what I needed to help support myself through this upcoming surgery. I also left with a customized CD after each session that helped me to take in the messages more deeply and gave new meaning to this work and to the surgery itself.
Each additional session (pre-surgery, surgery itself and post surgery pain management) was a revelation of just how well my at home listening was preparing me for the next session and the next phase of what would be happening soon. Each session gathered more information about my concerns, my anxiety, my hope for the outcome. She was very good at drawing me out in such a way as to help me access my own internal resources for the next protocol that would be done right there in the office and then be going home with me on CD.
By the time I had surgery I was physically, emotionally and psychologically prepared. Even though I have health issues that can complicate any surgery, like diabetes and having had a heart attack a few years earlier, all of those things were addressed in the work we did. In surgery, there were no complications at all. When I was in recovery I asked for pain meds. After they took me to my room, I didn't need to ask for anything. I went home the next day and only took some aspirin even though I was sent home with several meds to relieve any pain. I continued to listen to the post surgery CD for the next 10 days and then realized that I was doing great.
This series was so helpful to me, and I can highly recommend Dr. McDonald for anxiety, pain management and prep for any surgery you might be thinking of. Thanks Dr. McDonald, I'll see you in the future for other issues that I believe you will be helpful with."
- AJ, San Jose, CA


Long Distance Surgical Preparation
"Thank God for Dr. Cynthia McDonald! I said a few days after my colectomy surgery at the Cleveland Clinic Hospital. I reflected over our work together and told my parents that I would have been a total basket-case before, and after, the major operation if I hadn't spoken with Dr. McDonald. Even though I live across the country from her, our distance work together was extremely successful!
I started working with her because I wanted to learn relaxation techniques in general and hoped that they would help ease the symptoms of my ulcerative colitis. After a year of trying different medications, alternative diets and supplements did not get me into remission, I opted for surgery. I found out Dr. McDonald could help me specifically with pre-surgical relaxation techniques, so I scheduled another appointment with her. Because of how sick I was and with my surgery scheduled two weeks from our first appointment, Dr. McDonald was flexible and very willing to fit in multiple sessions in a short span of time. Because I had to make a tough decision, go through a big surgery and make life-changing adjustments at age 27, I wanted her help to deal with everything.
She gave me knowledge, tools, and guided me to create and practice mental visualizations. These mind exercises helped me to deal with pre-surgery jitters, set up my body-mind for a successful surgery with little blood loss, and with healing beginning before they even closed me up.
I had faith that after listening to the CDs of our sessions that this practice would help me, but I was shocked at how much better it worked than I even expected! I was calm enough be smiling while pre-surgical 'pow-wowing' with the two surgeons, nurses and anesthesiologists just before my operation. My visualizations helped me feel so relaxed and feel truly protected on the way to, and while in, the operating room. I went into surgery with a below-normal hemoglobin level, but I barely lost any blood and did not need a transfusion during the operation.
The first week of my recovery was in the hospital and was the toughest week of my life. However, I was in very positive spirits and a nurse said upon my discharge, "You're handling this very well, especially for being young. Everyone on staff thinks you're a rock star!" I owe a lot of the positive mindset to having worked with Dr. McDonald! She helped me gain the tools needed to practice and naturally execute the techniques to relax easily whenever I wanted to. This mind-body calming has helped me move forward into a very healing recovery process. So far my recovery has been positive overall and any temporary challenges have been easier to handle.
I shout out a big, "THANK YOU!" to Dr. McDonald. I definitely recommend her as a hypnotherapist, guide and coach, especially when preparing for surgery or any big challenge in life."
- Alaina Z., Lancaster, NY


"My daughter was helped by Dr. Cynthia McDonald more than I could have imagined. I watched my daughter change from being fearful and anxious that her life-altering illness was taking over to becoming determined to help herself relax and accept upcoming surgery. She learned how to lessen her pain response and to develop a positive attitude that enhanced her healing. I am grateful to Cynthia for her expertise because it enabled my daughter to cope with her severe medical condition. In turn, it helped me to stay calm and regain hope. Thank you so much, Dr. McDonald!"
- Patti Z., RN, Lancaster, New York


Transformative Living Practices
"I think what made Transformative Living Practices so special is the freedom and openness of it. The ideas were presented in many different forms, so we could find the one that resonated for us. We could try these different things, and yet the structure of it was meant to address one way or another all of these parts of ourselves that really needed integrative work...In that sense, it left me free to explore what I needed to bring to the practice, instead of, you know, shoving myself through a hole into the practice. The practices sort of peaked out like flowers and said, 'Pluck me, and see what works'! Very, very different from anything I've done, and yet very powerful."
- Helen, Palo Alto, CA


"I think the best thing about doing the Transformative Living Practices is that it gives me a chance to actually see my thoughts. And it gives me a chance to decide what I want to do with them."
- Amy, Palo Alto, CA


"Transformative Living Practices really helped me to understand myself a lot more, to accept myself, to just take a step back and kind of relax a little bit more. I think just maybe accepting myself for who I am and that I'm doing the best I can to improve."
- Carrie, Palo Alto, CA


"I'm not going to be sitting on a mountain-top chanting as a result of Transformative Living Practices, but my understanding has shifted—my need to control things, the illusion that I had—you know, I still cherish my illusions of control—I'm just much clearer about the fact that they are illusions! Transformative Living Practices has helped me to respond a little bit more immediately and organically to things, because that's what's really going on—not the story I was telling myself."
- Becky, Palo Alto, CA


Projects, program development, and speaking engagements
"On behalf of the Auxiliary of Good Samaritan Hospital, I would like to thank you for being our guest speaker at our Annual Meeting and Luncheon. Your speech was exactly what we envisioned, and I think you inspired many with your talk. It was a pleasure to work with you and an even bigger pleasure to hear your presentation."
- Margaret Ann J., 2009 Auxiliary President, San Jose, CA